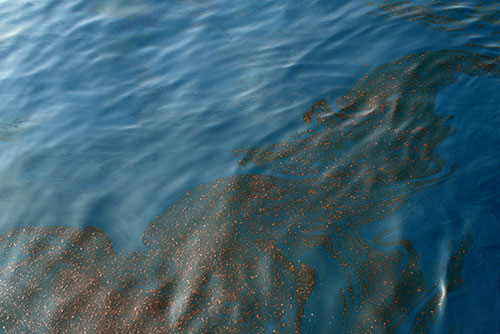 Since the Deepwater Horizon oil spill occurred in 2010, numerous research teams have spent considerable resources developing modeling tools, collecting and analyzing measurements, and performing scientific studies to understand different aspects governing the eventual fate of the oil. Together, these data have provided the basis for development of vastly improved modeling tools for tracking the distribution and chemical evolution of oil. But one area where our understanding remains quite limited is the role that microbes play in determining the eventual fate of oil and its impact on ecosystems, and how these processes depend on environmental conditions (hydrographic and biogeochemical properties of the water and circulation), hindering predictive capability.
The overarching goal of the Consortium for Simulation of Oil-Microbial Interactions in the Ocean (CSOMIO) is to synthesize recent model developments and results from field- and laboratory-based microbial studies in order to fundamentally advance understanding of how microbial biodegradation influences accumulation of petroleum in the water column and in marine sediments of the deep ocean and the shelf, and to investigate the impacts of potential future oil spills under different temperatures, oxygen levels, suspended particulate matter, transport, and bathymetric regimes, all of which would influence biodegradation. The outcomes of this study will provide a more comprehensive analysis of the fate of the Deepwater Horizon oil spill than is currently available and improve the ability to forecast the fate of future oil spills.
Our Research Team
CSOMIO brings together a select team of investigators with a diverse array of expertise to synthesize their scientific, technological, and data products into a framework that will be used to gain a more complete understanding of the interaction of oil with shelf and deepwater marine ecosystems.
Eric Chassignet | Florida State University

The Consortium director and principal investigator, Dr. Chassignet, is also a professor in the Department of Earth, Ocean and Atmospheric Science at Florida State University. His current area of research interest is on the role of the ocean in climate variability from the complementary perspectives of coupled ocean-atmosphere modeling and observations. His emphasis is on the study of the thermohaline circulation, western boundary currents, associated eddies and their impact on the world ocean circulation.
Victoria Coles | University of Maryland

Dr. Coles is a research associate professor at the Horn Point Laboratory of the University of Maryland Center for Environmental Science. Her research focuses on physical oceanographic processes and numerical modeling, particularly applied to biogeochemical and ecological questions. Dr. Coles has developed a novel model that is the first to specifically link the modeling of genes and transcripts to general ocean circulation models.
Dmitry Dukhovskoy | Florida State University

Dr. Dukhovskoy, is an associate research scientist at FSU's Center for Ocean-Atmospheric Prediction Studies. He a physical oceanographer whose research focuses on physical processes and circulation in the ocean and air-sea interaction in the North Atlantic from tropical to Polar Regions. His primary expertise lies in developing, running, and analyzing numerical models for a broad range of applications.
Courtney Harris | Virginia Institute of Marine Science

Dr. Harris is a professor at the Virginia Institute of Marine Science at the College of William & Mary. She has more than 25 years of experience in developing and implementing numerical models for sediment transport in coastal seas, and has applied these models to numerous locations including the California shelf, the Adriatic Sea, the New Zealand shelf, and Virginia estuaries. For the past decade, her research has included studies of suspended sediment transport and deposition in the northern Gulf of Mexico.
Robert Hetland | Texas A&M University

Dr. Hetland is a Professor at TAMU, and has been working on coastal circulation in the Gulf of Mexico for more than 20 years. Dr. Hetland has published 37 papers on circulation in the Gulf of Mexico, with topics ranging from submesoscale baroclinic instabilities in the Mississippi/Atchafalaya River plume, seasonal bottom hypoxia (the dead zone), harmful algal bloom formation, hydrodynamic model skill assessment, and oil spill trajectory prediction.
Tian-Jian Hsu | University of Delaware

Dr. Hsu is a professor at the Center for Applied Coastal Research, University of Delaware. His main expertise includes environmental fluid mechanics and numerical modeling. Over the past decade, Dr. Hsu and his team have focused on studying cohesive sediments, including flocculation, fluid mud, and wave-mud interaction.
Andrew Manning | HR Wallingford

Dr. Manning is a principal scientist in the Coasts & Estuaries Group at HR Wallingford Ltd. where he specializes in cohesive sediment transport dynamics. Dr. Manning is a world-renowned scientist in the field of flocculation processes.
Olivia Mason | Florida State University

Dr. Mason an assistant professor in the department of Earth, Ocean, and Atmospheric Science at FSU. She has used metagenomics, metatranscriptomics, and single cell genomics to assess how microorganisms responded to the DwH oil spill, including both the water column and surface sediments.
Steve Morey | Florida State University

Dr. Morey is a senior research scientist at FSU's Center for Ocean-Atmospheric Prediction Studies. His research focuses on shelf processes including coastal upwelling and estuarine connectivity, circulation in the Gulf of Mexico, and the interaction between physical processes and marine ecosystems. My current research projects include studies of estuarine systems and their connectivity with the offshore environment, impacts of environmental variability on fisheries, deepwater processes over steep topography, and influence of air-sea interaction on the near-surface velocity profile.
Mike Stukel | Florida State University

Dr. Stukel is an assistant professor in the Department of Earth, Ocean, and Atmospheric Science at FSU. He is a plankton ecologist and biogeochemist with extensive experience as a field oceanographer and modeler. Stukel has developed a physical-biological coupled model of nitrogen-fixing plankton within a domain that includes the Gulf of Mexico.
Kristen Thyng | Texas A&M University

Dr. Thyng is a physical oceanographer using numerical models to understand physical flows, especially as they related to particle tracking and oil spill transport. She is a research assistant professor at Texas A&M University.